THE TOUR IS CURRENTLY UNDER DEVELOPMENT.
PLANNED START: 2020
Accessibility is one of our main goals. We realised, people have different abilities, and enjoy things in different ways. In order to raise awareness, but also give a unique twist to tourism and exploration of a new place, we want to show you Gothenburg without seeing it.

This tour is intended as a soundwalk, that visits the main sites of the city and you will listen to their unique sounds. Whether you have visual impairments or not, you can feel free to join the tour. Optionally, blindfolds will be provided to experience the soundwalk as intended. The tour is created with care and background knowledge of the acoustical properties of the places that are visited. Wondering why a place has a rather echoing sound to it? We will provide you with some explanations. Your inner nerd might enjoy it!

This is a Free Walking Tour. Simply book a spot, join the tour and if you liked it, show your gratitude to the tour guide by tipping them. You decide how much it was worth!

Due to the nature of the tour, spots are limited.
MEETING POINT
The Meeting Point is located at Gustav Adolfs Torg, right next to the statue of Gustav II Adolf. You can reach it simply by taking any public transport to Brunnsparken.

Your Tour Guide will be waiting for you with a Göteborg Walking Tours sign!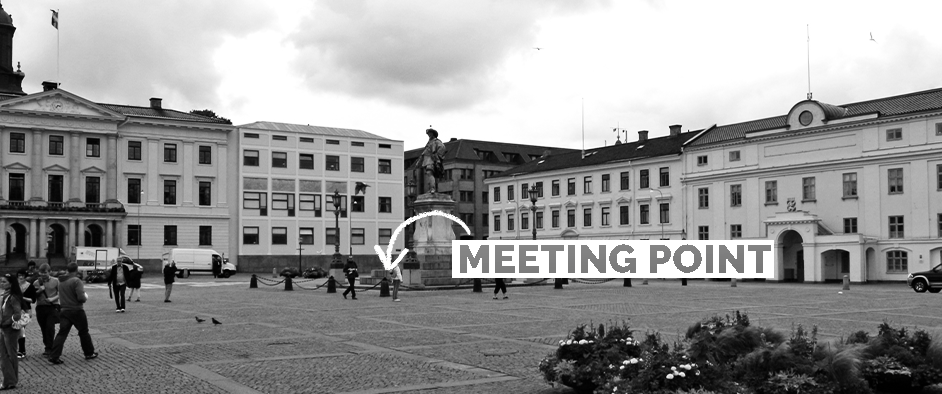 BOOKING
BOOK YOUR SPOT
SITES
Gustav Adolfs Torg, Domkyrkan, Kungssportsplatsen, Stora Saluhallen, Stora Teatern, Avenyn, Trädgårdsföreningen, Centralstationen