Fika – A Definition

Swedes prefer not to translate the word fika. They don't want it to lose significance and become a mere coffee break. It is one of the first words you will learn when visiting Sweden, right after tack (thank you) and hej (hello).

Fika is much more than having a coffee. It is a social phenomenon, a legitimate reason to set aside a moment for quality time. Fika can happen at any time, morning as well as evening. It can be savoured at home, at work or in a café. It can be with colleagues, family, friends, or someone you are trying to get to know. It is a tradition observed frequently, preferably several times a day.

/Sweden.se

—
There is a beauty in a good cup of coffee. Forget about the world and enjoy being alive. Sweden is number 2 in coffee consumption per capita, so we do enjoy our Fika a lot. Now think of this: You are visiting Gothenburg, so you can't explore all those fantastic cafés for a nice Fika in that short time period.
We have the solution for you: Join our Fika Experience!
During this tour, we will take our time and explore 4-5 different cafés in Gothenburg in a nice afternoon marathon. It is up to you if you would like to drink a coffee in every place, but they also have fantastic pastries! And a bit of sinning on your holidays is never a bad idea! The stops will be adapted according to the group and can range from cafés, over ice cream shops, to places for some great savoury snacks. This is a fantastic opportunity to relax, enjoy a bit of a different walking tour and get to know more local stories of the city and Sweden.
Tour Duration: 2:00 – 2:30 hours

Walking Distance: 2 km

Please bring thirst for coffee/tea or other drinks and pastries, comfortable shoes, rain and windproof clothing (it is Sweden after all) and best case: many questions! We love those!
MEETING POINT
The Meeting Point is located at Järntorget, right next to the spring in the middle of the square. You can reach it easily by taking any public transportation to the station "Järntorget", or take a short walk from the city centre to it.

Your Tour Guide will be waiting for you with a Göteborg Walking Tours sign!

The tour ends at Göteborg Olivedalsgatan, 900m away from the starting point.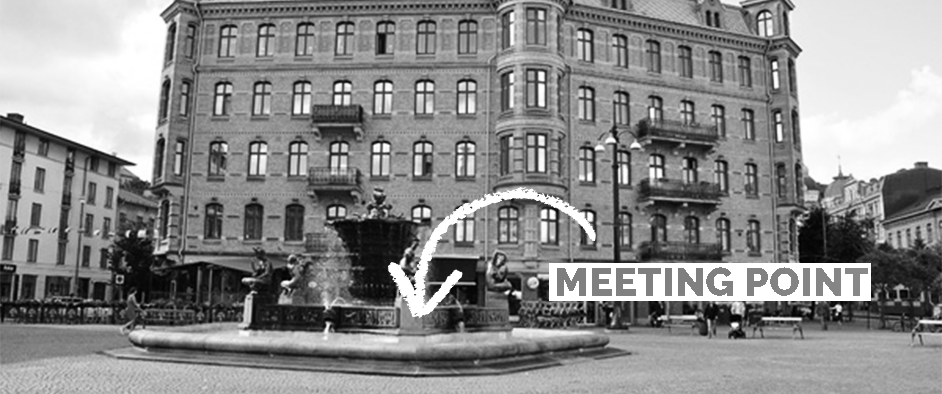 BOOKING
Price per Person
595 SEK

Included
– Guided tour through 4-5 cafés of Gothenburg with stories
– Two coffee/tea in places of choice
– One pastry of choice

Maximum Group Size
5 People

Cancellation Terms
A tour can be canceled and fully refunded up to 24 hours before tour start.
BOOK YOUR SPOT
SITES
Frid & Fröjd, Kafé Magasinet, Kaffelabbet, Råda Gelato, Kastello, Bönor & Bagels, Kafferosteri, Bar Italia
subject of change depending on the day
Cover image by Tina Stafrén / imagebank.sweden.se